Dance Team Sisters
Three Pairs of Sisters Dance Together
The GHS dance team has three pairs of sisters. The three pairs are junior Kaelyn and sophomore Emily Caniglia, senior Rebekah and freshman Racheal Hall, and senior Carlyn and sophomore Nicole Briganti.
"I was six when I started dancing, but I have been dancing for the high school all four years," C. Briganti said. "My mom used to dance in high school and my mom always put me and my sister in dance classes."
According to Research Gate, 44.58% of kids follow in their older sibling's footsteps into the same sport. Being sisters on the dance team can be beneficial because not only are the sisters going to practice together but when they go home they can help each other. Sometimes it can push them to do better, constantly improving their dance skills. 
"My sister helps her at dance practice and at home," C. Briganti said. "Even before high school, I was dancing with her at Fusion, so when high school came it was almost normal." 
All three pairs of sisters had previously danced together at their dance studio for many years. By the time that the season came around the sister was already familiar with being around each other, and the other's friends."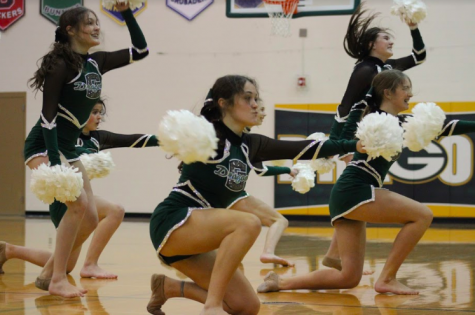 "My sister inspires me to dance because we are really close because when I was little and I saw her dance that was something that I wanted to do," Rachael Hall said. "Not only dancing, but she is a good person that I aspire to be more like. Even watching her dance helps me grow personally as a dancer."
Even though the sisters are on the team together, it can also bring out their competitiveness for each other. In the end, they can push each other harder than a teammate can. Ultimately, it helps them as individuals to grow and strive to do better. 
"We are very competitive since we are both on the dance team," R. Hall said. "We are close as sisters but when it comes to dancing we fight more than we would normally. Sometimes she might get mad because I am her little sister, but I really enjoy being on the team with her."
One thing that is common with all of the sisters is that they agree that their sister is their best friend. The Caniglia sisters have been dancing since they were five so dancing for the school was nothing new to them.
"I used to never be very competitive when I was younger, but since dancing with my sister I have become more competitive and have taken dance more seriously by watching her," E. Caniglia said. "Every time she watches me dance, she brings out the best in me, and I feel better when she is watching me dance."