The Ultimate Taco Joint For Taco Tuesday
Fresh guacamole, homemade corn chips and tortillas, along with tongue burning sauces. The small, hole in the wall restaurant, El Alambre is located on 16722 Harrison St, next to Family Video. The location makes it perfect to grab tacos to go and then pick up a movie. 
While their menu consists of authentic choices like; tacos, quesadillas, gorditas, sope, and tortas.  They also include more adventurous authentic options like cow tongue and cheek. They offer classic Mexican restaurants like nachos and burritos too. Most of their menu is gluten-friendly and they can take off any toppings, for me, I take off the cheese, it becomes food I can eat and enjoy. 
I discovered this hidden gem over the summer and I have found myself craving their tacos on a weekly basis. While I have not tried any dishes besides their steak tacos, I have tried their chips and guacamole. Now I will be honest, the chips could use some salt but other than that the guacamole is the right amount of creamy and has a green taste to it. 
Their tacos come with a choice of their signature green or red sauce and a few limes. The tacos are on two hot corn tortillas.  It comes with your choice of meat and is then topped with guacamole and onions. Most of the time I end up getting four tacos. I add the toppings, Verde sauce and lime juice, and then enjoy the deliciousness.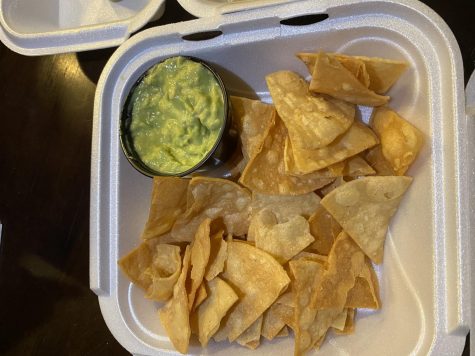 With the number of tacos that I eat, you would worry that it would be expensive, but much to my wallet's relief, the tacos are very reasonably priced. For four tacos, chips and guacamole it was only $10.42. The place is quick, cheap and delicious. If I call ahead to pick up they usually have it ready in fifteen minutes tops. This makes it my go-to destination for when my friends and I are trying to find a place for takeout. But they have seating to dine in. I can say that I will be asking to go to El Alambre next time my family wants to eat at a Mexican restaurant, their tacos are too irresistible and yummy to go anywhere else.