Un-fore-gettable experience
My friends and I wanted to go out, but we had two problems: we did not want to go out to eat and we did not want to drive far. After searching the web, we came up with the perfect place, Medieval Putt.  Previously I went to Prehistoric Putt, which is a putt-putt course with the theme of dinosaurs. I loved how different the holes were and how they made putt-putt fun.
It was in 20915 Cumberland Dr, Elkhorn, NE 68022. It was not hard to get there, I just took Highway 6 the whole way there. Once I pulled in the parking lot I noticed it was across from The Mark, meaning it only took me about 15 minutes to get there.
It was $9 for 18 holes and $13 for 36 holes. Personally, I thought it was a bit pricey, but it was worth it. We picked our clubs and picked our golf ball colors, the golf balls were cute, they had unique designs. I took a few glances around and I saw that this was definitely new and well kept, there was no trash and the holes looked like I was the first person to putt there. The whole vibe in the place assured me that this was the right place to play putt-putt as there were props everywhere fitting the theme of Medieval Times. There were knights, dragons and castles everywhere that made it more enjoyable. They even had Medieval-themed music that fit the vibe perfectly, it was not too loud or obnoxious.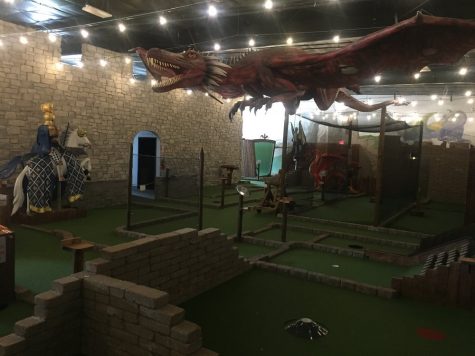 Each hole brought a new challenge so we were never bored. One thing that made this course different from other places was that they had small attractions within the different holes. On one hole there was a zip-line that was about 12 feet long, nothing fancy, but I had fun with it and I could tell that the other customers did too. Another fun attraction they had was a foam pit, it was big enough to do flips and it had a balance beam in the middle. 
One thing I thought that Medieval Putt could improve on was the spacing, for the most part, it was open, but there were some holes that were so bunched together that we were almost touching the people on other holes. I also felt like they could add more attractions instead of just the zip line and foam pit. I had a pleasant time but it only took my friends and me 45 minutes to get through 18 holes. I was a little disappointed that it did not take long.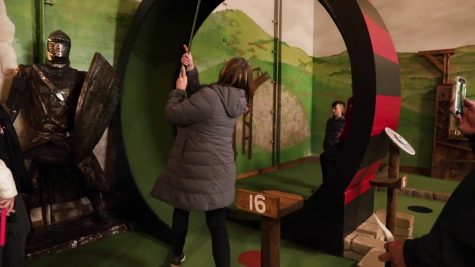 When hanging out with friends. I recommend Medieval Putt. It was the perfect low-key hangout place for all ages. It is a fun activity that got everyone to move and walk around.