402 Nutrition
Trendy, Unique Establishment Offers Customers Tastier Way to Stay Fit
Located in K-Plaza, 402 Nutrition offers both healthy drink options and a hangout spot for customers of all ages. This establishment is still fairly new and opened on Feb. 13, 2019. This shake and tea bar is open from 7 a.m. to 6 p.m. on the weekdays and 9 a.m. to 3 p.m. on the weekends. While the inside of the building was very eye-catching and decorative, the ordering process was a little confusing; it made more sense once the staff member explained it to me. Essentially, customers must both choose a shake that serves as a meal replacement and a tea or iced protein coffee that serves as the drink that goes along with the meal.
The first step of the ordering process is to choose either an iced tea or an iced protein coffee. From there, customers must choose what kind of ingredients they want to put in their tea. I just chose the plain iced green tea because I didn't want to have to pay extra for a bunch of added ingredients. For instance, the facility allows customers to add products such as collagen and Liftoff that is supposed to enhance your immune system and physical appearance. Given the fact that I am not really educated in the health and beauty departments, I had my mom just choose a basic iced green tea for me. After drinking my iced green tea, I felt very refreshed and hydrated\; I do wish I was given a bigger size for my drink since I spent over $10 on my order.
The next thing patrons must do is order a shake. The shakes come in a variety of different flavors and serve as a meal replacement for any time of the day. Each shake ranges between 200-300 calories, 24-27 grams of protein, 10-30 grams of carbs and 4-10 grams of fat. Once I was able to choose my shake, I ordered a chocolate chip cookie dough shake. Surprisingly, this shake tasted exactly like a regular milkshake minus the extremely unhealthy nutrients. Also, the shake was made to order with a chocolate chip garnish. Even though it was a little grainy due to the protein content, I felt like it was both the perfect size and filling.
Even though the shakes and tea were a little pricey, I was really amazed by how helpful and friendly the staff members were. Not only that, but the place was not super busy, so I was given plenty of time to go over my options and learn more about the selection process. I also really enjoyed the variety of unique farmhouse decorations the facility contained. Even though it takes a little while to fully understand the ordering process, 402 Nutrition is the perfect place to go either before or after a workout or with family and friends. Customers can find this shake and tea bar directly in the L Street Marketplace in K-Plaza.
Leave a Comment
About the Contributor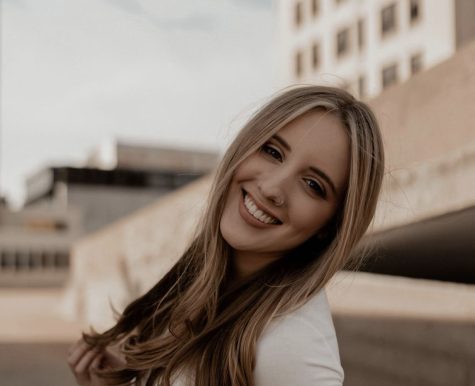 Kalei Renner, Yearbook Business & Advertising Manager
Kalei Renner is a senior at GHS and is in her first year on The Dragon staff; she serves as the Business and Advertising Manager. Prior to entering The...