Jingle Ball Rock
JV Lady Dragons Fighting Through Winter Season
The JV Lady Dragons are kicking off the season. The games are flowing in like snow this December and the girls are ready for it. They have improved since last year\; their bonds are stronger and their plays are sharper. Sophomore Sydney Woods can already tell that this season is going to be better than ever.
"This season is looking like it's going to be more successful than last year," Woods said. "We are already playing a lot better. We have some bigger games coming up, but we've already played some tough games and have only lost by a couple. I have a feeling this is gonna be a great season."
To Woods, high school basketball season is the best time of the year. The bond shared by the squad is stronger than before, making this year more enjoyable. Plus, they are playing better, which is just the cherry on top for the teams.
"The best part about playing basketball in high school is creating a friendship and a new bond with different people outside of your closest friend group," Woods said. "Connecting to people through one thing you have in common is pretty cool. Plus, you get to play the sport you love.
The ladies have played two games: their win against Omaha Central and lost against Papio South. Even though they did not win them all, it does not affect their confidence or how proud they feel toward the team. Woods and Coach Ms. Makayla Kastens believe that they will start winning their games if they keep up the wonderful work.
"We have played our first few games, and I think the intensity and the desire to play basketball is present," Ms. Kastens said. "We just have to work on a few extra things and that takes time."
The team's' prime focus is training. Twelve months ago, their team focused more on winning than training. They are practicing harder, repeating plays, and improving team chemistry in order to achieve their goals this season.
"Last year's basketball season, I think we focused more on winning and not the process you have to do to win," Woods said. "This year, we got better at doing plays and we are closer as a team than we were last year."
Woods predicts that they are going to see more improvement as the season progresses. The team is going to be facing their rivalries head-on soon, but they are prepared to win. The season is looking good for the ladies.
Leave a Comment
About the Contributor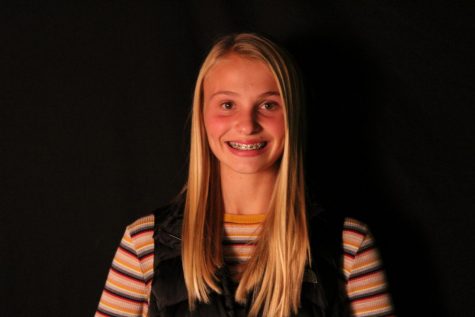 Regan Ehlert, Sports Editor
Regan Ehlert is a sophomore at GHS, and this is her second year on The Voice Staff. She is the Sports Editor and enjoys being in journalism because she...